Charleston Lawyer Mount Pleasant SC Criminal Defense Attorney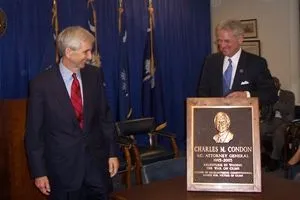 An experienced firm fighting for your rights
If you have been charged with a crime in South Carolina, you need experienced criminal defense attorneys for the best possible outcome. For more than 15 years, we have been fighting to defend the rights of our clients as criminal defense lawyers. We have built our reputations on getting results. We are intimately familiar with all facets of the South Carolina criminal justice system through being prosecutors for many years and now being criminal defense attorneys, and have the knowledge and skill to make sure you understand your best defenses, your legal options, and to guide you through the legal process. You need to know if your charge is a misdemeanor or a felony, will you be arrested, what is an arrest warrant, will there be bail and if so, how much will it cost, what is a bond hearing, should you request a preliminary hearing, what are roll call dates and first and second appearance dates, what is a grand jury, what is the statewide grand jury, will you be indicted, what is a true bill or a no bill, what is an indictment, will there be a search warrant, do I have to give blood and/or saliva samples,will there be placement on the sex offender registry or the central registry in child abuse child pornography cases and sex offense cases, what are the potential penalties, what is an arraignment, will there be an extradition, what if Miranda warnings were not given, how will a sentence be determined, what about probation and/or parole, who can speak at sentencing, what about sentencing guidelines, what defenses are available such as self-defense, etc. Diversion programs such the Pretrial Intervention Program, which was started in Charleston County by then Ninth Circuit Solicitor Charlie Condon, may be available. Successful completion of the Pretrial Intervention Program or PTI results in a non-conviction with complete expungement of the criminal record possible. Other diversion programs such as the Alcohol Education Program or AEP which is a program for alcohol-related offenses for persons under 21 may be available. A Conditional Discharge also results in a non-conviction with eligibility for expungement for certain drug offenses and disorderly conduct.
For more than 15 years, Charlie Condon Law in Mount Pleasant has represented clients in state and federal courts in Charleston, North Charleston, Mount Pleasant, Moncks Corner, Hanahan, Goose Creek, Summerville, Isle of Palms, Sullivan's Island, Folly Beach, Jamestown, Bonneau, Georgetown, Berkeley County, Dorchester County, Charleston County, and in courts throughout South Carolina on charges ranging from minor offenses and misdemeanors to serious felonies including:
Assault and Battery/ABHAN/ABWIK
DUI/DWI/Felony DUI/DUAC/Hit and Run
Drugs Simple Possession of Marijuana
Possession with Intent to Distribute Marijuana/Cocaine/LSD/Heroin/Xaanax
Trafficking Marijuana/Cocaine/Heroin/LSD
Controlled Substances/Forged Prescriptions
Fraudulent Prescriptions
Theft, Larceny, Forgery, Fraud, Tax Evasion
Burglarly/Breaking and Entering
Mail/Wire Fraud
Robbery Armed Robbery Bank Robbery Fraud

Arson
Rape, Criminal Sexual Conduct, Lewd Act
Child abuse/neglect/child pornography
Sexual Exploitation of a Minor
Criminal Sexual Conduct with a Minor
Homicide — murder/manslaughter
Criminal Domestic violence/CDV/CDVABHAN
White collar crime/Embezzlement
Financial Transaction Card Fraud/FTCF
Breach of Trust Shoplifting
Disorderly Conduct Public Intoxication
Animal Cruelty
Felonies/Misdemeanors
And more
When you have charges on your record that you want eliminated, we can help you get those charges expunged if that is a viable option. In the alternative, a pardon can be pursued that will restore your civil rights. However currently in South Carolina a pardon does not eliminate the conviction from your criminal record or rap sheet. The conviction is marked as pardoned.
No matter what obstacle has been placed in your way, rest assured that we strive diligently to help you overcome it and work tenaciously to attain the best possible result for you.
Going the extra mile to ensure your freedom
At Charlie Condon Law, we go the extra mile to ensure that you get the best possible result. We strive continuously to provide exemplary service, and are available if needed on weekends and after normal business hours. Through meticulous preparation and a firm attention to detail, our efforts are always focused on achieving that goal. We personally speak with witnesses, comb through police records and examine the alleged crime scene thoroughly, if necessary. We also bring in experts as needed who challenge the prosecution and help us prepare trial strategy.
Nothing is more important than your freedom. If you seek a defense attorney who is dedicated to your case, contact Charlie Condon Law today.
Don't delay. Contact Charlie Condon Law today.
When you have been charged with a crime, choose a criminal defense attorney with the experience and dedication to make a difference. Call 843-884-8146 or contact us online to schedule an appointment. With offices conveniently located in Mount Pleasant, SC, Charlie Condon Law stands ready to represent you in your criminal matter.